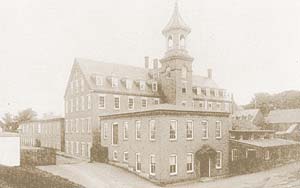 Constructed in 1832, the Belknap Mill is the oldest unaltered brick textile mill in the U.S. Once a hosiery mill, it houses an intact hydraulic power plant and a bell cast by George Holbrook, apprentice to Paul Revere. The Busiel Mill, built in 1853 as a hosiery mill, was later used for the manufacture of clocks, electronic relays, and organs. The Belknap-Sulloway Mill and the Busiel-Seeburg Mill were individually listed on the National Historic Register in 1971.
View the Mill's listing in the National Register of Historic Places here

Located by City Hall, on Beacon Street, off Business US 3.