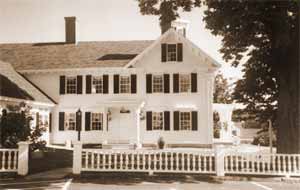 John Coe was born in Durham, New Hampshire on November 3, 1797. He was one of eight children whose genealogy dates back to England in the sixteenth century. He was educated in the common schools of the town and worked for his brother in a country store. About 1819, John Coe moved to Center Harbor and purchased his own store in town where he bought, sold, and bartered for articles in common use at that time.
Mr. Coe was united in marriage with Lavinia T. Senter, the pretty daughter of Samuel and Lettice Senter, owners of the Senter House Hotel overlooking Center Harbor Bay. As was the custom of the day, the institution of marriage was "cried in church" by the uncle of the bride, he being Town Clerk at the time. The next step was building their home, and the site selected was the one with the most extended view of the surrounding mountains and the "Great Pond" (Lake Winnipesaukee) as it was called by the early settlers.
Today, the famous house John & Lavinia built is a popular restaurant.

The Coe House is located on Route 25B, Center Harbor, NH
To learn more about the Coe House, Visit them online at www.coehouse.com