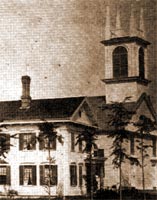 Known variously over the years as the "North Church" or the "White House," the First Congregational Church of Meredith with its prominent white spire has become a symbol of Meredith's New England charm. Organized in 1815, the earliest gathering of the church met on the hill off Center Harbor Road (Route 25). In 1832-33, the society built a new church opposite the Old Oak on Meredith Bay. It was moved in 1842 to its present site on Highland Street. This example of classic New Hampshire ecclesiastical architecture bears the results of the move, as well as a later renovation. Its earlier. Federal-style features are visible in the arched side windows and accompanying arched blinds, curved modillion blocks beneath the eaves and the semi-elliptical fanlights located above the entrance in the gable. Originally topped with a square tower with corner fmials, the spire was added in 1871. It rests on a three-stage tower consisting of a base, a belfry with louvered arches and an octagonal clock tower. The original decorative glass and stained glass transoms with floral designs probably dating from the 1870s, were recently updated.
Other notable buildings on Highland Street are the Beede House and the cupola-topped carriage shed of Sam Hodgson across the street, now remodeled into an attractive residence. An outstanding example of Italianatc architecture, the Beede House was completed in 1867. From the octagonal cupola are stunning views toward the town and east toward Lake Winnipesaukee. The elaborate entry portico, corner quoins and graciously landscaped grounds enclosed by a Victorian wooden fence complete one of
Meredith's most elegant residences. John Way Beede came to Meredith in 1850 and became a prominent merchant and citizen. His son John F. Beede succeeded him in both his home and business. Across the street Hodgson's elegantly designed carriage house is topped with a square ventilator that features a cross-gabled roof with wooden finials and a weathervane. The triangular window caps, circular bosses (applied, richly decorative ornament) and stick-like detailing in the gable are common Victorian features and often associated with the Eastlake or Stick styles.
Congregational Church can be found by taking Route 3 to the lights in Meredith. Turn left and go up the hill onto Lower Main Street. Highland Street is located on the right.