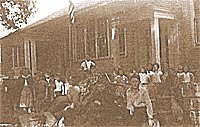 Lang Street, once called Winnipesaukec Street designating its terminus, was named for Joseph Whidden Lang, who developed the neighborhood with Amos Cram in the 1850s. Probably the first house on the street was the Cox house (No. 24), which Mr. Lang moved from Main Street in order to clear a site for his new store. Later that decade the first Meredith Meetinghouse was moved to Lang Street from its original site opposite the town pound on Parade Road. It was used by the Freewill Baptists and later as a gymnasium for Meredith High School. Its lot at the head of Oak Street has remained vacant since it was torn down in the early 1980s. One of the most recent buildings on Lang Street is the former Lang Street School (pictured), opened in 1925. Its form and details resemble an enlarged bungalow, a popular building type during that period. It was recently converted to a children's museum.
Just south of the old school is the so-called Bixby House, originally built by library donor Benjamin M. Smith and later owned by his Bixby relatives. Lang Street includes one of the most popular housing types in Meredith Village. Much of the west side of the street is lined with 1 1/2 story houses, sited gable-end to the street, with smaller, offset rear ells and, in some instances, attached barns. This type of house was common throughout northern New England villages in the second half of the 19th century, in part because it adapted well to narrower urban lots. Across the street at 10 and 12 Lang Street is the same basic house, only a story higher and with more decorative detailing. Note the bracketed doorhoods, corner pilasters, heavily molded window caps and side porches - all features common to the Italianate style which dominated much of northern New England in the 1860s and '70s.
Lang Street can be found by taking Route 3 to Lake Street. Turn left onto Lake Street & Lang Street is the first left.