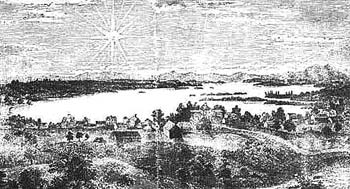 An 1856 lithograph of "Centre Harbor and Winnipiseogee"
from Gathered Sketches, by Francis Chase.

Moses Senter came up from Londonderry to the head of Lake Winnipesaukee as early as 1763, to survey some wild land for the colony. Mr. Senter and his companion, Mr. Bean, were so delighted with their campsite that they decided to settle there. Senter built a log house on the shore with plans to return with his family the following summer.
On one beautiful June morning, Moses Senter, his wife, little son, Sam, and Mr. Bean packed all their household goods in birchbark canoes and began the trip up the Merrimack River from Londonderry. They carried their furniture, supplies, and canoes around the falls as they came to them. They entered the Weirs just before dark after six days of vigorous paddling. The little party was unable to find their home until the following morning. Mr. Bean returned to Peterboro and resumed in the spring with Lettice Aulds as his bride. They built a log house nearby, and the two families tried to establish themselves in an area where there were no neighbors for miles in any direction. The only mode of traveling was on foot and the only trails were blazed on the trees. The area was originally called Senter's Harbor but was eventually changed to Center Harbor.